GRANBYWARE
Branding • Reseach • UX/UI



OVERVIEW

Granby Workshop is a ceramic studio in Liverpool, England. Their newest collection, Granbyware, is centered around saving recyclable materials from wasting their lives in a landfill and giving them new life as ceramic tableware. The products range from bowls, plates, and mugs.

This collection only has a kickstarter, with links to the studio's website, but there is not a site fully dedicated to the Granbyware collection. The Granby Workshop website captures the fun expressive vibe of the studio, however to consumers it might seem loud and unorganized. Their newest collection, Granbyware, is not highlighted at all.
APPROACH

The goal of this project is to give the Granbyware collection an identity of it's own, while still feeling connected to the Granby Workshop there the products are created. Then use that identity to develop an e-commerc website dedicated to the magic of these recycled pieces.

The Granbyware website should be an extension of the collection's primary purpose. Which is to educate consumers of the problem of waste in the community. This message should be told in a simple and clear way that comes across inviting and friendly.


RESEARCH HIGHLIGHTS
The intial research began with mapping out important stakeholders. Then an empathy map was created to showcase the thoughts and feelings of a potential consumer. The next step was to brainstorm HMW (how might we) questions, in order to focus in on the key elements of this e-commerc site. A storyboard was created to help imagine the user flow through the site.
KEY INSIGHTS
The research for the Granbyware website concludes that visitors to this site will have a deep love for handcrafted items and are aware of their environmental impact. Showcasing the artist's beautiful process of turning waste into art needs to be the main purpose for this site

BRANDING
The website design will showcase the beautiful imagery of the products through a modern design approach. The typefaces will feel clean and modern, except for the display type, which will look solid and handmade to reflect the shape of unmoled clay. The color scheme will also be inspired by the art. The colors will be clean earthy tones picked straight from the recycled materials.

The visual design language of this collection needed to feel related to the branding of the studio it's from. However, giving the Granbyware collection a slightly different look would make it stand out from previous collections at the studio.
LOW-FI PROTOTYPES
FINALS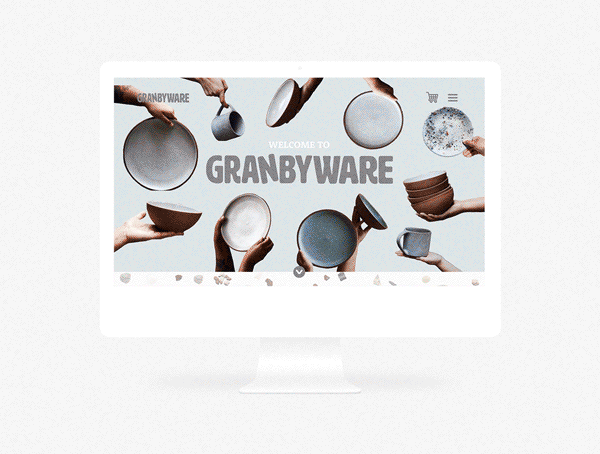 Copyright © 2021 Aspen Walter. All rights reserved.